Environment´s information
The surround of Soria of the village belongs to the Natura Red 2000 by the LIC "Mountain Chains of Urbión and Cebollera" and of the ZEPA "Mountain Chain of Urbión". Likewise it belongs to the Regional Reserve of Hunting "Urbión", besides, the GR-86 Iberian Path of Soria. In the surround of Rioja there are also different figures of environmental protection and paths to walkers. Going up to the Port Saint Inés, with is snow point, the traveller has the region of Pine forest of Soria with two main settlements which are very close: the beautiful villa of Vinuesa on the head of the reservoir of Cuerda del Pozo, and the Black Lagoon. In the North, and in lands of Rioja, there is the reservoir of Mansilla, and in the East is the Pajare´s reservoir. And the part of la Rioja of the Mountain Chain Cebollera is also Natural Park.
Montenegro de Cameros
It borders with La Rioja and it is the only village of Soria which belongs to the Region of Cameros. You can get to Montenegro from the interior of the province of Soria or from the valleys of Najerilla and Iregua, both from La Rioja. It is included in the Natura Net 2000 by the LIC "Mountain Chains Urbión and Cebollera" and of ZEPA "Mountain Chain Urbión". It also belongs to the Regional Reserve of Hunting "Urbión". The Route of Almanzor passes by its term, as well as the GR-86 and different paths. In the villages there are some pictures left in the Romanesque hermitage of Saint Mamés which has two apses inside. Likewise the altarpieces of the Gothic parish are interesting- In the streets you can see some stone houses with shields. Going down from the Port of Saint inés (where there is a Snow Point). To the village it is not strange to see horses and cows in some track of the slope and good panoramic views. If you come from Najerilla, you come through Viniegra de Abajo and Viniegra de Arriba, raising the high of Soria through a mountain landscape and fully covered by thick and impenetrable forests which especially in spring are ploughed by small natural waterfalls.
Tours

*Esculture park Parque de las Esculturas.
* Caves of Ortigosa.
* Nautical club Rasillo.
* Trashumancia Center.
* Ethnographic Museum of San Andrés.
* Natural Park of the Mountain Chain "Cebollera".
Activities
Cross Country Skiing and Crossing, nautical activities, Mycology, Observations to Fauna, Hiking, etc ...
WHERE TO GO

Cuevas de Ortigosa
Son las únicas cuevas acondicionadas para la visita turística en toda La Rioja. Pero su visita es obligada no solo por las cuevas, sino por el pueblo, donde podremos apreciar lá típica estructura de l...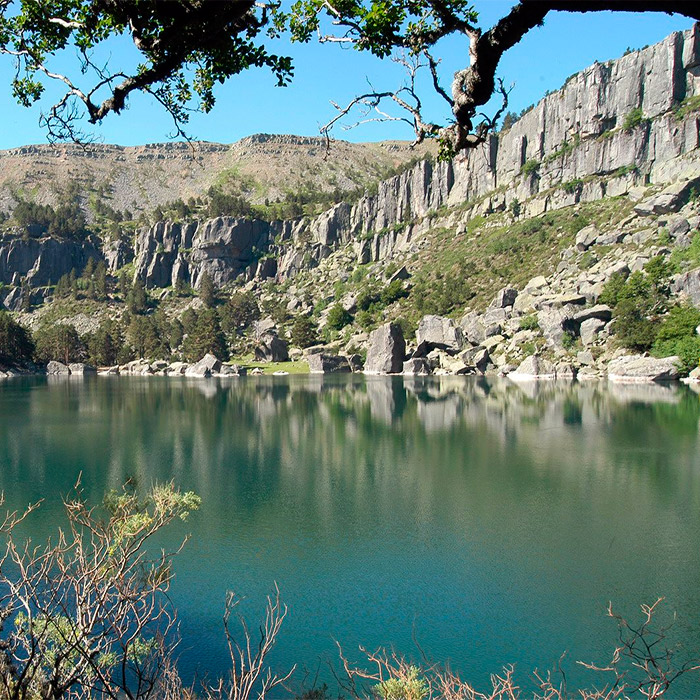 Laguna Negra
El paraje forma parte del Parque Natural Sierra la Laguna Negra y Circos Glaciares del Urbióln, cantado por Antonio Machado. Foco de leyendas y en un entorno idílico de hayas, pinos albares y roquedos...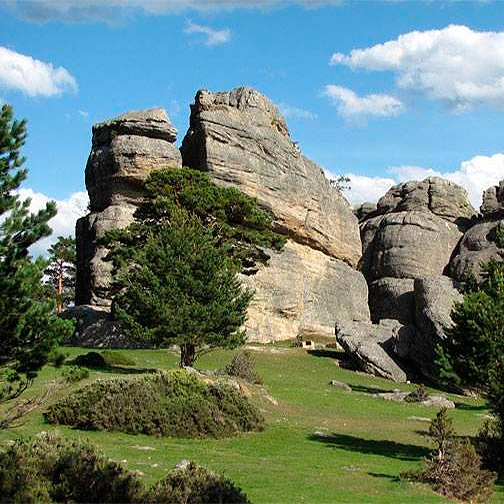 Castroviejo
Entre Duruelo de la Sierra y los Picos de Urbión donde nace el Duero se encuentra el paraje rocoso de Castroviejo, la Ciudad Encantada soriana que recuerda a la de Cuenca. Las vistas pinariegas desde ...
UPCOMING EVENTS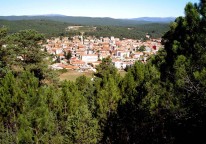 San Esteban en Navaleno
En Navaleno, 26 de diciembre
Con hoguera nocturna en la Plaza Mayor, chorizos asados regados con vino para vecinos y visitantes.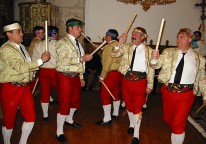 San Ildefonso
En Casarejos, del 23 al 24 de enero de 2019
En Casarejos se festeja a San Ildefonso con unas danzas de paloteo en el interior de la parroquia, vistiendo los danzantes con trajes goyescos. Es común en varios pueblos del antiguo marquesado de San...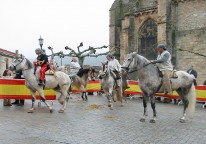 Fiesta de los Jefes
En Santo Domingo de Silos, 28 de enero de 2019
En el último sábado de enero. Escenificación de la hazaña de los silenses contra el ataque de los árabes. Cencerradas, pasacalles,"las crestas", carrera de jinetes de San Anton, carrerillas de los chi...